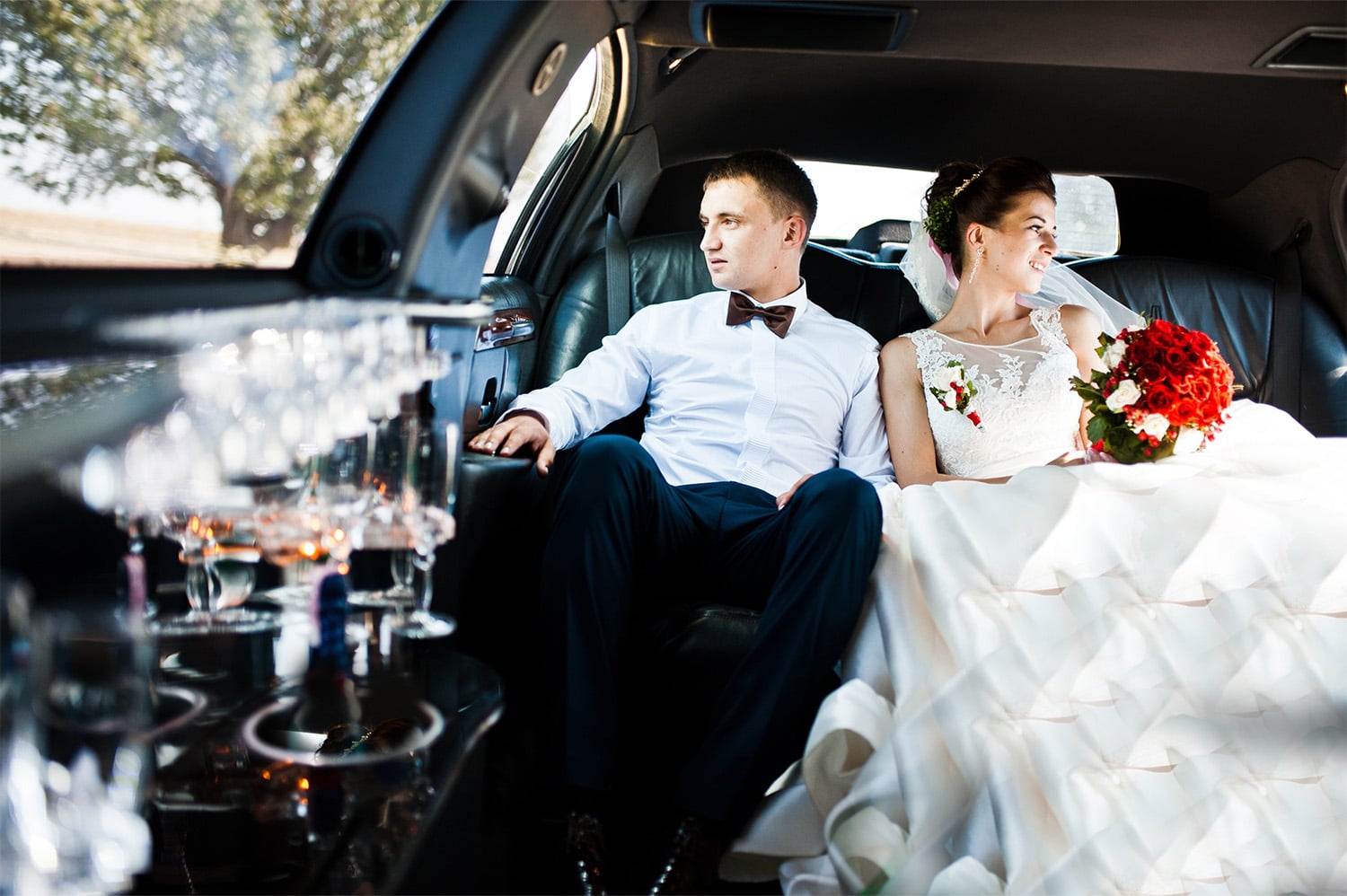 Your wedding day only comes once! So why not ride stress-free, in style on your big day? If you haven't considered getting a limo rental for your wedding, you should now. Here are the top reasons you should be riding in a limo on your big day.
Arrive in Style
On your wedding day, you should feel special from the moment of getting ready to waving goodbyes with your spouse. So arriving to your venue should be a special moment all in itself! And with a limo rental, you'll not only feel special, but you'll be arriving in style. Nothing is more stylish than arriving (or leaving) somewhere in a limo.
Not to mention, you're not getting married every day. A limousine gives the necessary dose of elegance and exclusivity every bride and groom deserve on their wedding day.
Room for More
Of course, you don't have to ride in your limo rental alone. A great benefit of getting a wedding limo: the more, the merrier! Whether it's a stretch limo, a Hummer H2 limo, or a limo bus, there's plenty of room to have your whole party join you.
This is perfect for transporting members of your party to the ceremony, from the ceremony to the reception venue, and to the hotel when the night is done. Being able to travel in one vehicle together also ramps up the fun and keeps the wedding celebration spirit alive! Instead of dodging traffic in a regular car, you can kick back, play some of your favorite music, and enjoy a glass of bubbly in the company of your wedding party.
It Sets the Tone
Weddings are about celebration, romance, and often, a touch of glamor. When you get a limo rental for your wedding day, you set the tone for one of celebration.
Getting a wedding day limo is one of the easiest ways to mark your wedding day as an extra special occasion. No matter how much effort you put into the food, décor, and florals, nothing can seal the deal and add that final pop of glam like a limo rental can. What's more, you'll feel pampered as soon as you step inside. With pleasant seating, extra elbow room, and ice waiting for your bottle of champagne, this will turn your journey to your ceremony or reception venue into something ultra-special.
Great for Photos
Let's be honest. We all want amazing wedding photos. They are the perfect keepsake and will keep the day alive for years to come. But staged photos outdoors? They just don't cut it anymore.
These days, many brides and grooms want something unique for photo opportunities at their wedding. A limo rental provides this! High-end limos are gorgeous and provide the perfect backdrop for formal, casual, or playful wedding pictures. And when you're driving to the ceremony or reception, you can get fun, candid, behind-the-scene shots of you are your wedding party having fun! If you rent a Tempe Party Bus limo, just don't forget to turn on the club lighting before you snap any photos.
Less Stress
The biggest benefit of getting a limo rental? Less stress. And bride and grooms know that wedding planning is already incredibly stressful. By the time your wedding day arrives, you deserve to sit back, enjoy your special day, and not stress about getting to the ceremony on time.
You also shouldn't have to worry about getting your car cleaned beforehand, getting home safely afterward, or wondering where to park the car. With a limo service, everything will be taken care of for you. Instead of worrying about the time, traffic, or getting lost, you can enjoy your time in the limo, have a drink, and let your driver handle all the details.
With a high-quality limo service, they will always be punctual and have calculated the route beforehand, so no worries about missing your ceremony start time.
It's Not as Expensive as You Might Think
When it comes to planning your wedding, price is always the first thought for anything. And when you're spending a lot already, you're not in the business of wasting any of it. Limos tend to be thought of as expensive, but to the surprise of many, renting a limo is more affordable than you think. It's not just for celebrities who walk red carpets! While many of us can't afford to buy a limo, renting one is achievable for many.
Also, because limos can seat so many people, they are more cost-effective than people might assume. Instead of everyone having to organize and pay for their own transportation, a limo rental can get the entire bridal party safely to your destination.
Ready to Rent a Limo for Your Wedding?
Here comes the bride and groom! If you're looking for a limo rental for your wedding, Tempe Party Bus would love to be your chauffeur. Our premium services are affordable – and we make being your designated driver for your excursion memorable. Bring your favorite champagne or drink selection, and let us blast your favorite playlist along the way! Whether your wedding is in Phoenix, Tempe, or somewhere else in the valley, we look forward to helping you create the best memories on your special day!
Fill out the instant quote form below, or call us at 480-480-7434.