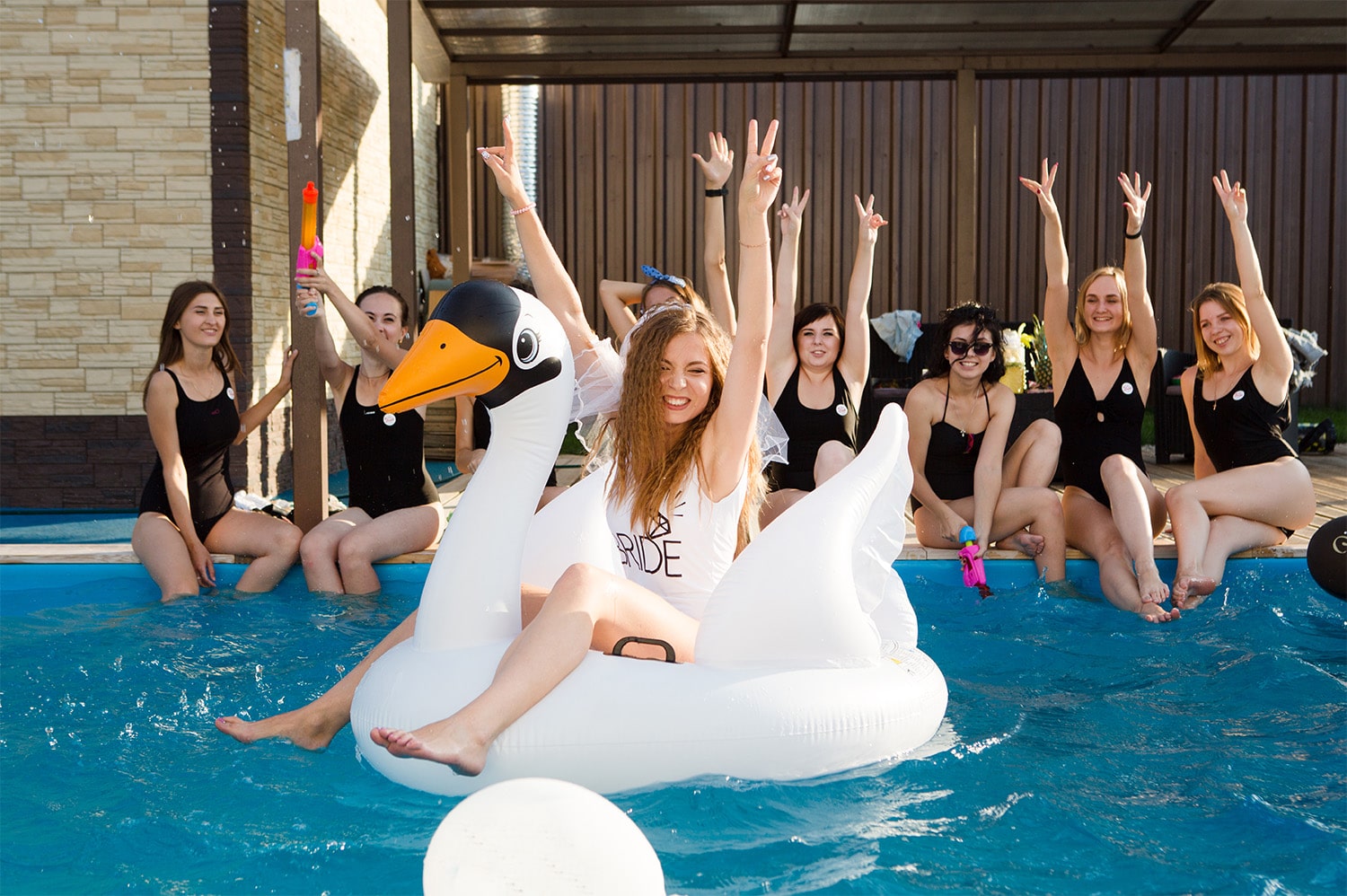 Scottsdale, Arizona, is the place to celebrate a bachelorette party! Need some ideas to help you pull off the perfect weekend for your soon-to-be bride? Here are a few activity options to help you out.
Attend a Pool Party
If you and the girls are looking for an unforgettable day activity, you don't want to miss the epic pool parties in the area. This is one of the most recommended activities for bachelorette parties in Scottsdale, and for good reason – these parties are second-best only to those in Las Vegas. So grab your cutest suits and get ready to party! Maya Dayclub and Wet Deck are popular and highly recommended for a fun, wet time. Just make sure to reserve a table ahead of time to have space poolside.
Hire Cabana Boys
Want to keep it lower-key and have a pool party at your vacation rental? Consider spicing things up by hiring Cabana Boys. The Cabana Boys are a service where two of their boys come to your place to serve, pamper, and entertain you. They'll help by serving up drinks, helping with party games, being the Spotify DJ, taking and posing in pictures, and keeping the party area tidy. The bridal party just has to sit back, sip on drinks, get tan, and enjoy the boys!
Hike Camelback Mountain
If your bride likes to get her sweat on, consider an early morning hike at Camelback Mountain. Right in the middle of the Phoenix and Scottsdale metro area, Camelback Mountain sits pretty with an elevation of 2,704 feet. It's a popular hiking spot as it's easy to get to and can be done in under two hours. When you make it to the top, you'll be rewarded with gorgeous views over the desert.
As we said, try and do this early in the morning if you're going to do it. The temperatures and sun can get intense in the afternoon. Plus, if you do this in the morning, you can all work up your appetite before a brunch reservation!
Book a Picnic Point
For the bride who values a good Instagram picture, Picnic Point is a must-do.
Picnics are already a cute way to have fun with your bridal party. You can get dressed up, drink some wine, and enjoy delicious food. But Picnic Point takes it to another level. Not only do they handle set up and food (charcuterie boards and chocolate dipped strawberries – yum), but they make it cute as heck by providing table décor, pillows to sit on, and place settings.
Best of all, you can have this set up anywhere. It can be in the living room of your vacation rental or a park, wherever you and the girls want to enjoy your luxury picnic. It goes without saying – don't forget to take lots of pics!
Have a Wine Night at Wine Girl
Wine lovers will love to spend some time sampling the goods at Wine Girl in Old Town. This wine oasis has an intimate setting and amazing vibes, so you and the girls can sip and sit in comfort and style. Enjoy a bottle of wine, get a wine flight, or try one of their fun Winetails – their delicious cocktails made with wine. This is the perfect spot to have a wine night or get a couple of drinks before heading out to dinner.
Get Brunch at The Montauk
If you don't grab brunch on the bachelorette party weekend, you're doing something wrong. The Montauk is the perfect place to grab some brunch and celebrate the bride-to-be. One of the best parts about this spot is the atmosphere. The interior is Hamptons inspired, and you and the squad can lounge comfortably inside or on the outdoor patio while you enjoy mimosas and delicious food. There's also live music on the daily, so check the "happenings" schedule on the website to see what kind of music they will be playing.
Rent a Party Bus
Whether you want to go clubbing in style or just want to give your bride a fun experience, a party bus is sure to provide an unforgettable experience! Rent a party bus for safe and fun transportation all around the Scottsdale and Phoenix area. With a party bus, you'll get safe transport to and from each bar and club, so no shelling out cash on ride shares and splitting up the bridal party. You can also blast your own party playlist on the stereo system and dance away on the stripper pole!
Speaking of stripper pole…looking to embarrass your bride (just a little)? Hire a male stripper! Whether you want something sweet and mild or raunchy and wild, they'll make your time on the party bus an event you and the girls won't forget.
Let's Get the Bachelorette Party Started!
We hope these ideas help you plan the bachelorette party for your bride-to-be! If you're looking for a party bus, Tempe Party Bus would love to be your chauffeur. Our premium services are affordable – and we make being your designated driver for the night memorable. Bring your favorite beer or drink selection and let us blast your favorite playlist along the way! We have many different party buses to choose from – we look forward to helping you create a memorable bachelorette party!
Fill out the instant quote form below, or call us at 480-480-7434.