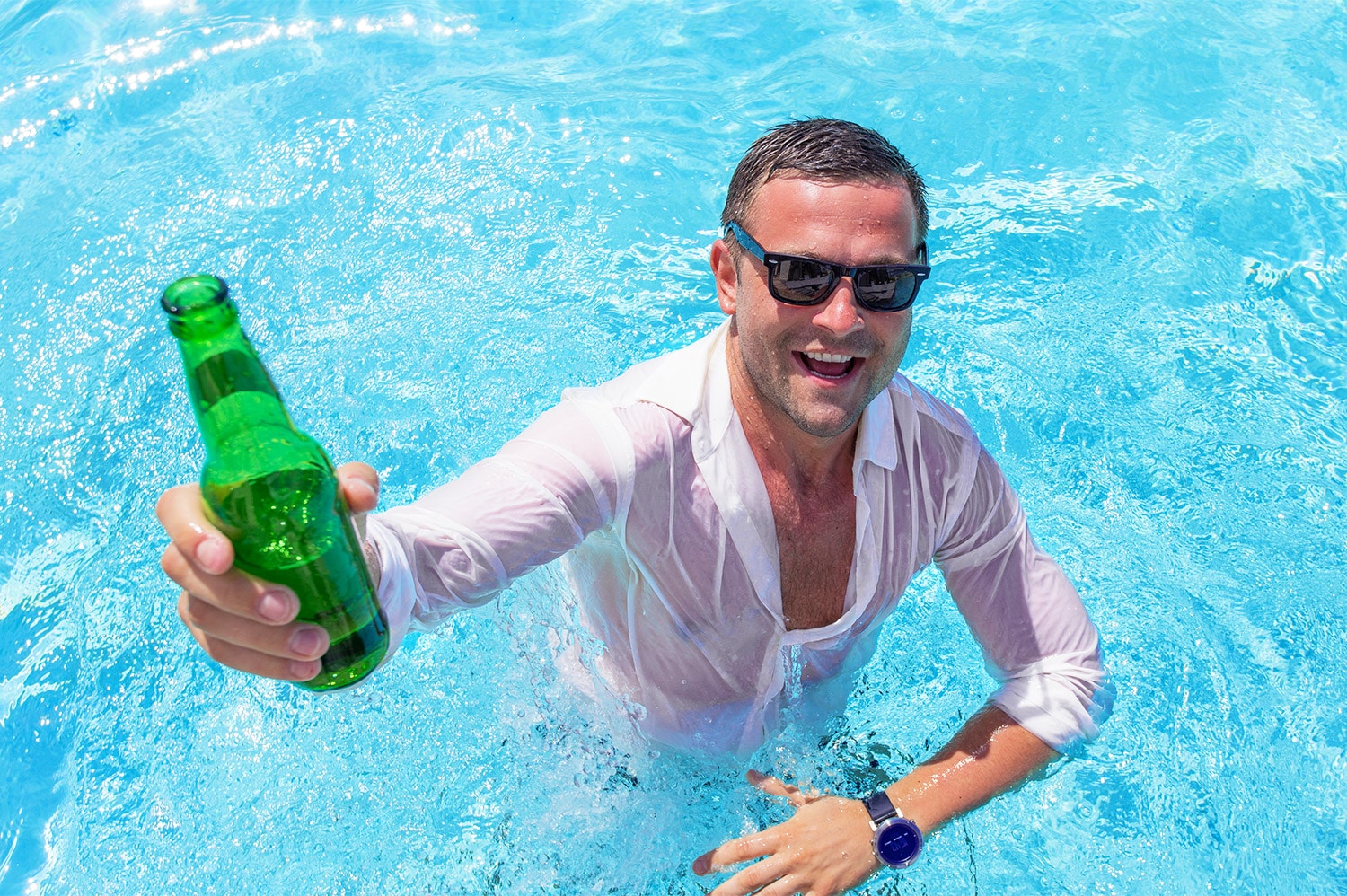 Let's be real – nightclubbing and bar hopping are a given for any bachelor party. So what else are you going to do? Here are some ideas to help make this weekend one none of you will forget!
Head to a Pool Party
No matter what activities you have in mind for the bachelor party, do not miss the epic pool parties in the area. Arguably second-best only to those in Las Vegas, this is a legendary daytime activity that includes sunshine, cool plunges, drinks, and eye candy. For bachelor parties that are larger than five gents, it's worth it to book a cabana or daybed with bottle service to really get the party going.
Maya Dayclub and Wet Deck are two very honorable mentions (especially if money is no issue). But no matter where you go, you'll be sure to enjoy a crazy, wet time.
Catch a Baseball Game
Got a groom who's a baseball aficionado? Catch a baseball game. Nothing beats sitting under the Arizona sun with a cold beer in hand at an afternoon game.
For five weeks every spring, Phoenix/Scottsdale hosts Major League Baseball Spring Training. If your bachelor party is in February/March, you can catch professional athletes tuning up for the start of their regular season in April. If you can't come during this time, no worries, you can still catch an MLB game at Chase Field, the home of the Arizona Diamondbacks.
Tube the Salt River
Looking for something that's a little more chill? Or just expecting a hungover day and want an activity that's not too crazy? Head to the Salt River and get your tube on. No need to buy your own tubes as tube rentals, as well as shuttle services, are available. Just pack a cooler full of drinks (keep in mind: no glass bottles on the river), get in your tube, and take a lazy trip down the river with mini rapids from time to time.
Play Some Poker
For another activity that's a little more chill but not in the great outdoors, a group game of poker could be what you and your bachelor party are looking for.
Talking Stick Casino is a great option for getting in some gambling time. With 47 tables and 24/7 poker games, you'll find some of the best poker action here. They also have an array of table games, slot machines, and 16 big-screen TVs showing your favorite sports games. If you're wanting to stay in and are renting a place, bring the action to you by hiring an event casino party rental and enjoy an unforgettable night.
Go Paintballing
Nothing cures a hangover better than getting out and shooting your friends with paint. Paintballing is a great activity to get the adrenaline pumping and is a unique experience that you and your crew will remember forever. Not to mention, this will surely be a "bride-approved" activity if the groom is worried about that.
Whether everyone in the bachelor party has played before or there are some newbies, you can't go wrong shooting paint at each other. If you're looking for a great paintballing experience, Westworld Paintball Adventures has an exciting outdoor course, amazing staff, and offers private parties for groups over 10.
Get on a Party Bus
Forget sitting in traffic or flipping a coin to see who is the sober driver for the evening. Whether you want a ride going from bar to bar or just want to experience a party on wheels, get your bachelor party a party bus. With a party bus, you'll get
Comfort – with pleasant seating and elbow room, you can enjoy your time on your party bus without worrying about spilling your drink.
Professional drivers – no worrying about having a sober driver when hitting the bars. They'll make sure to get your group everywhere safely and comfortably.
Enough room for everyone – with a party bus, you'll have plenty of room to mingle, dance, and have fun.
Looking for a bonus activity? Hire a stripper for your party bus to really shake things up. No matter if you're looking for something mild or something wild, they'll perform and create an evening you and the boys won't soon forget. Maybe just don't mention this part to the bride.
Time to Get Your Bachelor Party Started
We hope these activities help you plan the bachelor party of the century! If you're looking for a party bus, Tempe Party Bus would love to be your chauffeur. Our premium services are affordable – and we make being your designated driver for the night memorable. Bring your favorite beer or drink selection and let us blast your favorite playlist along the way! We have many different party buses to choose from – we look forward to helping you create a memorable bachelor party!
Fill out the instant quote form below, or call us at 480-480-7434.